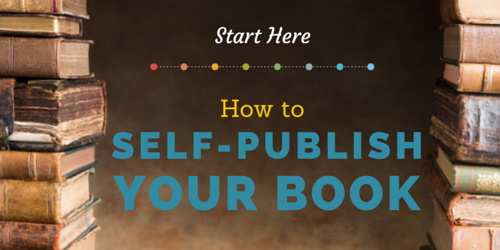 This is an introductory guide on how to self-publish and choose the right services or approach based on your needs and budget. It is regularly updated.
---
---
1. A Quick History of Self-Publishing
For most of publishing's history, if an author wanted to self-publish, they had to invest thousands of dollars with a so-called "vanity" press, or establish themselves as an independent, small publisher.
That all changed in the late 1990s, with the advent of print-on-demand (POD) technology, which allows books to be printed one at a time. As a result, many POD publishing services arose that provided authors with low-cost self-publishing packages. They could be low cost because—without print runs, inventory, and warehousing—the only expense left was creating and designing the product itself: the book.
What's changed: the shift to online retail and ebooks (namely, the rise of Amazon)
Just as traditional publishing has transformed due to the rise of ebooks, today's self-publishing market has transformed as well. Most self-published authors earn the bulk of their money from ebook sales. Furthermore, more than 80 percent of all US ebook sales happen through a single online retailer, Amazon. Anyone can make their ebook and print book available for sale in the most important market—Amazon—without paying a cent upfront.
That means the full-service POD firms (like AuthorHouse, iUniverse, Xlibris, etc) that used to make a killing are now largely irrelevant to most self-publishing success, even though you'll find them advertising against Google search results for "self-publishing." Don't be lured in; first understand your options, explained below.
2. The Most Common Ways to Self-Publish Today
There are several ways to self-publish in today's market.
Self-publish completely on your own, hiring only the freelance assistance you need, and work

directly

with retailers and distributors to sell your book.
Self-publish by paying a service company to assist you.
Work with a "hybrid" publisher.
This post will expand on how to self-publish completely on your own, retaining 100 percent publishing control and profits. Before I explore that process in detail, here's an explanation of the other choices you have. (You can also watch the 20-minute video below, which walks you through these choices and more).
Self-publish by hiring a service company
This is what I call the "write a check and make the headache go away" method of self-publishing. If you have more money than time, and have no interest in being a full-time career author, this may best serve your needs.
Service packages and publishing arrangements tremendously vary, but the best services charge an upfront fee, take no rights to your work, and pass on 100% net sales to the author. They make money on charging authors for the services provided (editorial, design, marketing, and so on), not on copies sold. Such books will almost never be stocked in physical retail bookstores, although in some rare cases, it may happen. Most assisted publishing services have different packages or tiers of service, while others offer customized quotes based on the particular needs of your project.
The benefit is that you get a published book without having to figure out the details of the publishing industry or finding freelance professionals you can trust. The best and most expensive services (which can easily exceed $20,000) offer a quality experience that is comparable to working with a traditional publisher. You should avoid companies that take advantage of author inexperience and use high-pressure sales tactics, such as AuthorSolutions imprints (AuthorHouse, iUniverse, WestBow, Archway).
Examples of good assisted services include Matador (UK), Author Imprints, and Girl Friday Productions. To check the reputation of a service, visit the Alliance of Independent Authors service directory. Sometimes such companies call themselves hybrids, which brings me to the next option.
Publish through a "hybrid" company
Some self-publishing (or assisted publishing) services have started calling themselves "hybrid publishers" because it sounds more innovative or desirable. Fees dramatically vary and quality dramatically varies. You have to do your research carefully. I discuss hybrid publishing in more detail here.
As with self-publishing service companies, you will fund book publication in exchange for expertise and assistance of the publisher; cost is often in the thousands of dollars. You may receive better royalties than a traditional publishing contract, but you'll earn less than if self-publishing on your own. Each hybrid publisher has its own distinctive costs and business model; always secure a clear contract with all fees explained.
3. Self-Publishing: The DIY Approach I Recommend
Today, anyone can get access to the same level of online retail distribution as a traditional publisher, for both print and ebook editions, through services such as Amazon KDP, Draft2Digital, and IngramSpark. I will explain how and when to use these services throughout this post.
You don't "pay" these services until your books start to sell. Every time a copy of your book is sold, the retailer takes a cut, and if you use a distributor, they'll take a cut, too.
You, the author, manage the publishing process and hire the right people or services to edit, design, publish, and distribute your book. Every step of the way, you decide which distributors or retailers you prefer to deal with. You retain complete and total control of all artistic and business decisions; you keep all profits and rights.
Self-publishing on your own means making decisions about your book's editorial, design, and production quality. I offer a checklist for the book publication process here.
What follows is an explanation of how to self-publish once you have a final, polished manuscript and/or printer-ready files.
Some distributors offer fee-based services related to editing, design, and marketing. These package services may work OK for your needs, but I think it's better to hire your own freelancers and always know who you're working with. Also, you can take a look at Joel Friedlander's book template system, which offers a way for total beginners to prepare ebook and print book files that are ready to be distributed and sold.
Setting Up a Formal Publishing Company
You don't have to set up a formal business (e.g., in the United States, you can use your Social Security number for tax purposes), but serious self-publishers will typically set up an LLC at minimum.
For the basic information on how to establish your own imprint or publishing company, read Joel Friedlander's post, How to Create, Register, and List Your New Publishing Company.
4. How Ebook Self-Publishing Services Work
The first and most important thing to understand about ebook retailers and distributors is that they are not publishers. That means they take no responsibility for the quality of your work, but neither do they take any rights to your work. Here are the characteristics of major services:
Free to play. You rarely pay an upfront fee. When you do pay upfront, usually in the case of a distributor, you should earn 100% net. If you don't pay an upfront fee, then expect a percentage of your sales to be kept.
At-will and nonexclusive. You can upload your work at any time and make it available for sale; you can also take it down at any time. You can upload new versions; change the price, cover and description; and you can sell your work through multiple services or through your own site.
Little technical expertise required. Major services offer automated tools for converting your files, uploading files, and listing your work for sale, as well as free guides and tutorials to help ensure your files are formatted appropriately.
Again, it's important to emphasize: By using these services, you do not forfeit any of your rights to the work. If a traditional publisher or agent were to approach you after your ebook has gone on sale, you are free to sell rights without any obligation to the services you've used.
Most e-publishing services fall into one of these categories:
Ebook retailers. Nearly all ebook retailers offer to distribute and sell self-published ebooks through their storefront or device, then take a cut of sales. The biggest and most important of these is Amazon's Kindle Direct Publishing. Ebook retailers do not offer any hands-on assistance in preparing your ebook files, although they may accept a wide range of file types for upload or conversion tools.
Ebook distributors. These services primarily act as middlemen and push your work out to multiple retailers and distributors. This helps reduce the amount of work an author must do; instead of dealing with many different single channel services, you deal with only one service. The most popular ebook distributor in the United States is Draft2Digital.
Book builders and distributors. These are tools that allow you to create and distribute your work all from one interface. These are most common for children's books and highly illustrated books, such as Kindle Kids' Book Creator or Blurb.
One popular approach for independent authors is to sell and distribute directly through Amazon KDP, then use a distributor like Draft2Digital to reach everyone else. Because none of these services demand exclusivity, that's possible.
A note about ISBNs: While an ISBN is not required for basic ebook distribution through most retailers, some distributors and services require one. Therefore, to maximize distribution, you'll need an ISBN for your ebook. Some self-publishing services will provide you with an ISBN, or you can obtain your own ISBN. (If you're US-based, you can buy through MyIdentifiers.com.)
What ebook retailers pay
Pay is determined by the ebook price you set. Amazon has the least favorable terms and penalizes you for pricing outside of the $2.99 to $9.99 window. B&N (Nook) and Apple pay 70 percent across the board. Kobo has the most favorable cut under $2.99.
5. Creating Ebook Files
Most major ebook retailers and distributors accept a Word document and automatically convert it to the ebook format, but you still must go through an "unformatting" process for best results. All major services offer step-by-step guidelines for formatting your Word documents before you upload them for conversion. Here is more information on going from Word doc to ebook.
Main ebook formats you'll hear about:
EPUB. This is considered a global standard format for ebooks and works seamlessly on most devices. You can use it at Amazon and just about any retailer or distributor.
MOBI. This used to be the standard file format for Kindle, but they have dropped it as a preferred format. It's not worth preparing any longer.
PDF. PDFs can be difficult to convert to standard ebook formats. It's not a recommended starting point for ebook conversion.
There is a difference between formatting and converting your book files. Conversion refers to an automated process of converting files from one format into another, without editing or styling. It's often easy to convert files, but the resulting file may look unprofessional—or even appear unreadable—if not formatted appropriately.
Useful tools for formatting and converting ebooks include:
Calibre: Free software that converts and helps you format ebook files from more than a dozen different file types.
Vellum: popular ebook formatting software for Mac users
Atticus: popular ebook and print formatting tool for PC users
If you're feeling overwhelmed at the idea of converting and formatting your own ebook files, then you may want to use a distributor or service that's customer-service oriented in this regard, such as Draft2Digital. If your ebook has special layout requirements, heavy illustration, or multimedia components, you should probably hire an independent company to help you (eBookPartnership is one option).
But if your book is mostly straight text—such as novels and narrative works—then you should be able to handle the conversion and formatting process without much difficulty if you're starting with a Word document.
Designing an ebook cover
There are a number of special considerations for ebook cover design. People may see your cover in black and white, grayscale, color, high-resolution, low-resolution, thumbnail size, or full size. It needs to be readable at all sizes and look good on low-quality or mobile devices. For these reasons (and many more), it's best to hire a professional to create an ebook cover for you. One designer I frequently recommend is Damon Za.
Ebooks don't work that well for some categories
Even though ebooks are the best-selling format for self-publishing authors (especially fiction), ask these questions before you begin:
Is your book highly illustrated? Does it require color? If so, you may find there are significant challenges to creating and distributing your ebook across multiple platforms.
Is your book for children? Ebook adoption in the children's market is in the single digits, unlike the adult market. Ebook-only work will struggle to gain traction.
6. How to Self-Publish a Print Book
There are two primary ways to publish and make a print edition available for sale:
Print on demand (POD)
Traditional offset printing
Print-on-demand technology allows for books to be printed one at a time. This is by far the most popular way to produce print copies of your book because it reduces financial risk.
Pros of print-on-demand
Little or no upfront cost, aside from producing printer-ready files
Your book can be available for sale as a print edition in all the usual online retail outlets (Amazon, BarnesandNoble.com, etc), as well as distributed through Ingram, the largest U.S. book wholesaler.
Most people cannot tell the difference between a POD book and an offset printed book—at least for black-and-white books.
Cons of print-on-demand
The unit cost is much higher, which may lead to a higher retail price.
You may have very few print copies on hand—or it will be expensive to keep ordering print copies to have around.
Most books printed by U.S. traditional publishers are produced through offset printing. To use a traditional printer, you usually need to commit to 1,000 copies minimum.
Pros of offset printing
Lower unit cost
Higher quality production values, especially for full-color books
You'll have plenty of print copies around
Cons of offset printing
Considerable upfront investment; $2,000 is the likely minimum, which includes the printing and shipping costs.
Increased risk—what if the books don't sell or you want to put out a new edition before the old one is sold out?
You'll have plenty of print copies around—which means you have books to warehouse and fulfill unless you hire a third party to handle it for you, which then incurs additional costs.
While it can be fairly straightforward and inexpensive to get a print book in your hands via print-on-demand services, virtually no one can get your book physically ordered or stocked in bookstores. Self-publishing services may claim to distribute your book to stores or make your book available to stores. But this is very different from actually selling your book into bookstores. Bookstores almost never accept or stock titles from any self-publishing service or POD company, although they can special order for customers when asked, assuming the book appears in their system.
Also, think through the paradox: Print-on-demand services or technology should be used for books that are printed only when there's demand. Your book is not going to be nationally distributed and sitting on store shelves unless or until a real order is placed.
Here I further discuss the meaning and value of print distribution.
7. Investing in a Print Run: Yes or No?
The 3 key factors are:
How and where you plan to sell the book. If you frequently speak and have opportunities to sell your books at events, then it makes sense to invest in a print run. Also consider if you'll want significant quantities to distribute or sell to business partners or organizations, stock in local/regional retail outlets or businesses, give to clients, etc. I do not recommend investing in a print run because you think bookstores or retail outlets will stock your book. If such an opportunity should arise, then you can always invest in a print run after you have a sales order or firm commitment.
Where you're driving sales. If you're driving your customers/readers primarily to online retailers, you can fulfill print orders with less hassle and investment by using POD. Ultimately, you do have to use POD regardless if you want to be distributed by the largest U.S. wholesaler, Ingram. (More info below.)
What your budget is like. Not everyone is comfortable investing in a print run.
You also need to anticipate your appetite for handling the warehousing, fulfillment, and shipping of 1,000+ books, unless a third party is handling it for you, which will reduce your profit. When the truck pulls up to your house with several pallets piled high with 30-pound boxes, it will be a significant reality check if you haven't thought through your decision.
8. Print-on-Demand Recommendations
If you choose print-on-demand for your print edition, then I recommend the following:
Use Amazon KDP to produce a POD edition to support and fulfill Amazon sales. For many authors, the majority of sales will be through Amazon, and using KDP ensures the highest possible profit on those sales.
Use IngramSpark to produce a POD edition to support book sales in the market outside of Amazon. By doing so, your book will be listed and available for order through the largest and most preferred U.S. wholesaler, Ingram. (Amazon also orders books through Ingram, so you can use Ingram to reach Amazon if you don't want to use Amazon KDP for some reason—but this will reduce your profit.)
You can use both services in conjunction; there is no need to be exclusive with one or the other. I recommend using both IngramSpark and Amazon to ensure that no one is discouraged from ordering or stocking the print edition of your book. As you might imagine, some independent bookstores refuse to order from Amazon, who is their key competitor.
As soon as your printer-ready files are uploaded, POD books are generally available for order at Amazon within 48 hours. With IngramSpark, it generally takes 2 weeks for the book to be available through all their channels.
Example of Print-on-Demand Earnings
This is for a $14.99 standard 6×9 paperback, about 240 pages.
For more detail on book distribution, I've written a separate post.
9. Maximizing Your Sales
With print books, your success is typically driven by the quality of your book, your visibility or reach to your readership, and your cover. With ebooks, the same factors are in play, plus the following:
If you check the ebook bestseller lists, you'll see that independent novelists charge very little for their work, often somewhere between 99 cents and $2.99. Some argue this devalues the work, while others say that it's appropriate for an ebook from an unknown author. Whatever your perspective, just understand that, if you're an unknown author, your competition will probably be priced at $2.99 or less to encourage readers to take a chance. Typically, the more well known or trusted you are, the more you can charge. Note: Nonfiction authors should price according to the competition and what the market can bear. Sometimes prices are just as high for digital editions as print editions in nonfiction categories.
Your Amazon page may be the first and only page a reader looks at when deciding whether to purchase your book. Optimization of this page—the marketing description, the book cover, your author bio, the reviews, and more—is critical for driving sales.
Giveaways are an important part of ebook marketing and sales strategy for indie authors. I comment more on that here.
This is but a scratch on the surface of the world of ebook marketing. Author Nicholas Erik maintains an excellent beginner's guide.
10. Additional Reading
Jane Friedman (@JaneFriedman) has nearly 25 years of experience in the media & publishing industry. She is the publisher of The Hot Sheet, the essential newsletter on the publishing industry for authors, and was named Publishing Commentator of the Year by Digital Book World in 2019.
In addition to being a professor with The Great Courses (How to Publish Your Book), she is the author of The Business of Being a Writer (University of Chicago Press), which received a starred review from Library Journal.
Jane speaks regularly at conferences and industry events such as Digital Book World and Frankfurt Book Fair, and has served on panels with the National Endowment for the Arts and the Creative Work Fund. Find out more.