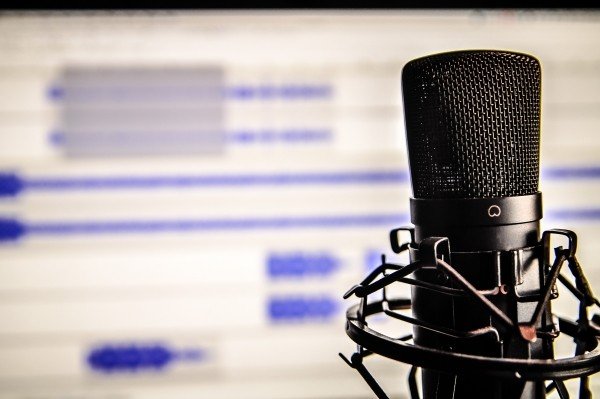 Today's guest post is from Devon Fredericksen, producer of the podcast From the Margins and a production editor at Girl Friday Productions.
---
In a crowded publishing environment, author-hosted podcasts are a unique and potentially effective marketing tool. But producing a podcast is challenging, and it requires a skill set distinct from writing. At Girl Friday, we just launched our own podcast, From the Margins, which explores behind-the-scenes stories in publishing; we'd like to share our hard-earned podcast production knowledge with these four tips on starting your own author podcast.
1. Understand Your Edge
The obvious goal for any author marketing endeavor is, ultimately, to increase your book sales. But how you do that has everything to do with bringing content of value to your community.
Think first and foremost and always about what your audience will want to hear. What do they struggle with, wonder about, want to know, desire access to? What are they motivated by? Make two word clouds—the first is what your audience wants and needs, the second is what only you can say. The area where they overlap is your content sweet spot.
2. Understand Your Listeners' Behavior
In the same way that you plan your book marketing efforts—when you think about where your reader goes and how they discover books—it's wise to map out a day in the life of your podcast listener.
What gender is your ideal listener? How old is he/she? What does he/she read? What does your listener like to read online?
As you produce podcast content, continue to gut-check its value: Will this be interesting to my ideal listener? Will this be valuable? This provides a necessary compass as you consider the content options for each episode.
When it comes time to upload your podcast and get the word out there, you'll know exactly where to promote your content to ensure that you're showing up where your listeners are already hanging out.
3. Don't Bite Off More Than You Can Chew
There are many different podcast formats—they run the spectrum from simple to extremely time-consuming. Two of the most popular formats are:
Q&A-style podcasts: the host interviews a variety of guests, such as WTF with Marc Maron
Edited narrative podcasts: shows such as Radiolab employ a more journalistic style
You'll also find advice podcasts, such as Dear Sugar; live storytelling podcasts, such as The Moth; comedy podcasts, such as 2 Dope Queens, and many more.
The higher the production value and the more people involved (if it's narrative, edited, and/or with several guests), the more time it will take to produce. Narrative formats often employ more sophisticated editing software and sound design. You may want to emulate a style you like to listen to, but be smart about choosing a format that you have the time and resources to pull off week after week.
4. Line Up Your Ducks
Many beginning podcasters use a pretty basic recording and editing setup that might already exist on their computer. But don't underestimate good sound quality—better sound quality directly impacts the size of your listenership. Choosing the right equipment, both in terms of cost and quality, can be dizzying, so skip straight to these two good resources for beginners:
Learn how to use your equipment and do some test runs before interviewing any actual guests. Draft a production schedule that gives you enough time to research, draft, record, and edit each episode.
Here's a checklist of other things you need to do:
Before podcast launch, have several episodes in the queue, to avoid scrambling to create subsequent episodes on schedule.
Use a spreadsheet to keep track of things like which potential guests you've reached out to, which interviewed guests have signed voice release forms, and what content you've recorded.
Find a quiet place to record—small carpeted rooms with curtains are ideal.
If an interview can't be conducted in person, Skype has decent sound quality for remote recordings.
If using music, explore stock music sites that offer access to royalty-free songs. (Here's a resource list of sites to help you start the search.)
Design your podcast cover art—this logo will be used as a branding tool for your podcast, so take time to consider how you want to visually represent your brand.
---
Be sure to check out Girl Friday's new podcast, From the Margins—a podcast that explores the story behind the story.